In the United States, April is known as Stress Awareness Month.
 This is a time when people are encouraged to learn more about the different ways that stress can affect their lives and find healthy ways to deal with it. While stress is a normal part of life, too much stress can lead to health problems.
 What does stress mean to you? Each person experiences stress differently. Stress is a natural reaction to dealing with anxiety or a threat of some kind. Some individuals embrace & deal with the stress they face head-on, while others internalize & avoid dealing with it. Dealing with stress in a healthy manner is extremely important to the health and well-being of every individual. Not dealing with your stress can lead to physical, mental or emotional distress.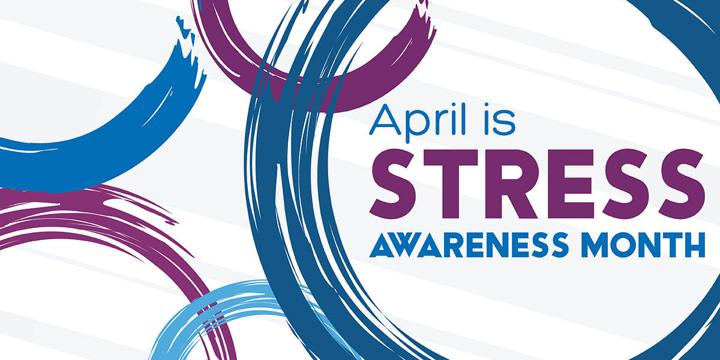 WHY STRESS AWARENESS MONTH IS IMPORTANT
It reminds us to pay attention to our health
According to the official website, "Stress Awareness Month is a national, cooperative effort to inform people about the dangers of stress, successful coping strategies, and harmful misconceptions about stress that are prevalent in our society."
It's going strong
Stress Awareness Month has been an ongoing campaign of awareness and education since 1992.
 Because we're all feeling it
A recent survey found that about two-thirds of U.S. workers report engaging in behavior such as drinking or crying regularly in order to deal with stress.
 Long-term effects of stress can result in weight gain or loss, headaches, stomach disorders and even depression. Perhaps, the most valuable takeaway is recognizing that you may not always be able to control what causes the stress. You CAN control how you react to it.
 How can you positively address and handle your stress?
Recognize what stresses you and create a plan to deal with it in a healthy way.
Find ways to deal with stress in a healthy manner. Exercise, diet, counseling or physical activity such as afternoon walks.
Avoid getting anxious when #health #healthcare you can't control the outcome of a situation.
Take control of your emotions and how you react to your stress enablers.
Recognize when you need help and take steps to get the help you need.
Alivi is a healthcare benefit management solutions company. We value people! Our focus is to ensure that everyone can enjoy a better quality of life. Our team strives to improve the healthcare experience by managing the delivery of healthcare benefits. To learn more about Alivi, visit online at www.alivi.com for more information.
#HealthierTomorrow #health #healthcare #stress #stressmanagement #alivi # #education #mentalhealthsupport #mentalhealthadvocate