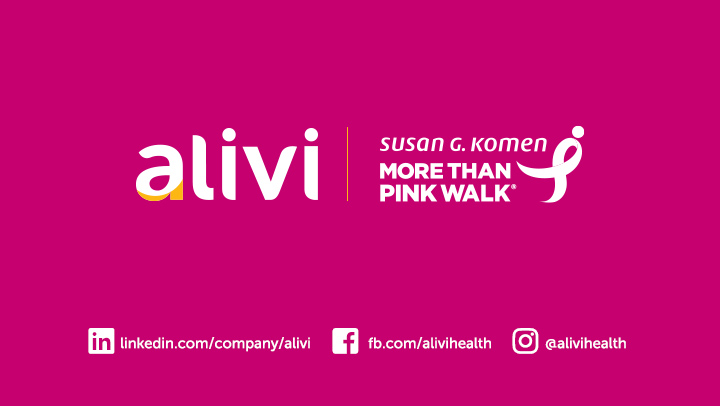 Doral, FL – October 3, 2019 – Alivi, ranked as one of the fastest growing companies by Inc. 5000, sponsors the MORE THAN PINK Walk™ and the 9th Annual Pop of Pink fundraising campaign. The 24th annual Susan G. Komen® Miami/Ft. Lauderdale MORE THAN PINK Walk™ will take place on Saturday, October 12 at Bayfront Park from 7:00 a.m. to 12:00 p.m.
Alivi an award-winning solutions provider for health plans was the title sponsor of the Pop of Pink luncheon benefiting Susan G. Komen Miami/Ft. Lauderdale, organized and held at the InterContinental at Doral Miami, kicking off Breast Cancer Awareness Month, which is marked in countries across the world every October.
"We are aligned with SGK as we both address one of the more important social determinants – Transportation to health care appointments. For Alivi, it's personal," said Magdiel Rodriguez, Alivi Chief Executive Officer.
The MORE THAN PINK Walk™ brings together an empowered community of hope to raise funds for breast cancer treatment, patient advocacy, and lifesaving research. Monies raised locally help provide treatment in Miami-Dade, Broward, and Monroe Counties, screening mammograms, or help patients in need with the cost to pay for diagnostic exams or chemotherapy treatment, as well as provide financial assistance.
"Come walk with us! We look forward to seeing everyone on October 12 for a day of inspiration and hope as we honor those we have lost, celebrate those who have survived and support everyone currently living with breast cancer, said Sherri Martens-Curtis, Executive Director of SGK Miami/Ft. Lauderdale.
About Susan G. Komen ® Miami/Ft. Lauderdale
Susan G. Komen® Miami/Ft. Lauderdale is an Affiliate of Susan G. Komen®, the world's largest breast cancer organization. Since its founding in 1999, Komen® Miami/Ft. Lauderdale has invested more than $12 million in local programs. Komen set a BOLD GOAL to reduce the current number of breast cancer deaths by 50 percent in the US by 2026. As such, Komen continues to fund national breast cancer research alongside local programs. Twenty-five percent of the net goal is invested in groundbreaking research. Seventy-five percent of Komen® Miami/Ft. Lauderdale's net proceeds stay in the community, funding grants to local hospitals and community organizations for breast cancer education, screening, and treatment for uninsured, underinsured, and medically underserved patients in Miami-Dade, Broward, and Monroe Counties. For more information, visit www.komenmiaftl.org, and find us on social media:
Facebook: facebook.com/komenmiaftl | Twitter & Instagram: @komenmiaftl.
About Alivi
Headquartered in Miami, Florida, Alivi is a 2019 ranked Inc. 5000 and award-winning company that provides solutions for health plans to facilitate the delivery of healthcare benefits. Our solutions include a non-emergency medical transportation platform, a business process outsourcing service, and provider networks. We combine deep industry knowledge with technology expertise to provide proven solutions that help improve results, streamline operations, and manage costs. We're passionate about providing people with access to the care they need. For more information visit www.alivi.com