Alivi introduced a virtual assistant in their call center IVR in August of 2021. The goal of the virtual assistant was to expedite simple transactions for callers. At implementation, Alivi introduced the ability for a caller to activate a return ride. It was a huge success!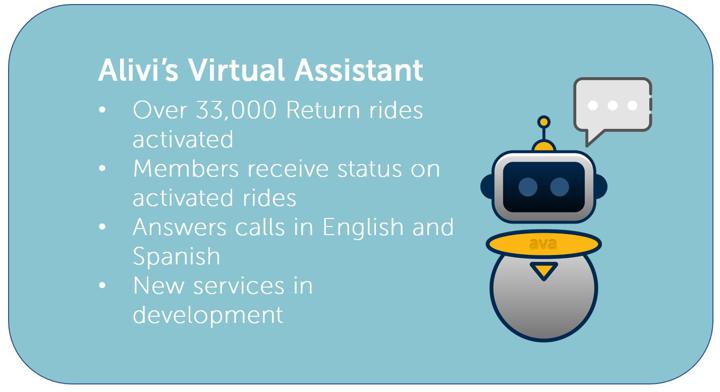 Working closely with their telephony partner, Five9, Alivi implemented their IVA or Intelligent Virtual Assistant technology. The IVA is designed to service simple requests using conversational Artificial Intelligence (A.I.). The goal of the IVA is to expedite the resolution of simple transactions, like a return ride activation without having to engage with a call center representative. The end result is a faster resolution for the caller and a reduced call volume into the contact center. This allows existing staff the time and flexibility to service more complicated transactions.
One of the challenges we prepared for was the misconception that member population we engage does not interact or like utilizing technology such as conversational AI. Alivi decided to brand our IVA. We named her Ava, short for Alivi's Virtual Assistant. Throughout the interaction Ava has with our members, we made every effort to make her as personable and easy to use as possible. To address our dynamic membership, we made her available in both English & Spanish. The end result, Ava has activated over 33,000 rides since August of 2021.
Our members are embracing technology. How do we know? Each caller is asked to participate in a one question survey and rate their overall experience with the representative they spoke to. Ava is no exception. Members have rated Ava 4.8 stars out 5 stars since inception.
In addition to the excellent ratings, members have asked us to enable Ava to service additional tasks. Members were requesting we add to the ability for members to check on the status of a ride. This service is now operational in both English and Spanish. What started as the search for simple solution, is evolving into the ability to service complex requests for members using our IVA.  
Using the IVA technology, we have been able to reduce the number of FTE's needed to grow the organization and service the increasing demands of our Contact Center. The IVA does not eliminate the need for FTE's. It allows us to focus their attention on aspects of the service that require human interaction. We are excited about the evolution of our IVA. Thanks to our partnership with the Five9 Team, there are several new initiatives that Ava will assist our members with in 2022. Stay tuned for future updates about our IVA and Ava.
Alivi will participate in the Five9 CX Spotlight scheduled on April 27th at 2pm est. The event is called Spring into Five9 IVA. To register for the event, you can click on this link. https://events.five9.com/springintofive9iva. You will be redirected to the Five9 website so that you can register.
Alivi is a healthcare benefit management solutions company. We value people and our focus is to ensure that everyone can enjoy a better quality of life. Our team strives to improve the healthcare experience by managing the delivery of healthcare benefits. To learn more about Alivi, visit online at www.alivi.com for more information.
#HealthierTomorrow #makinganimpactthatmatters